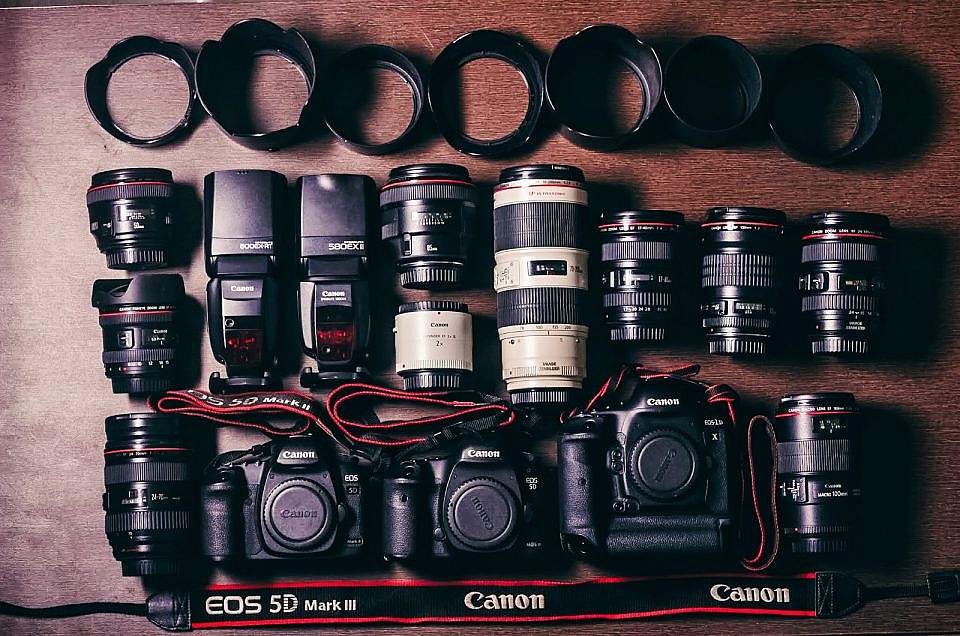 I've been interested in photography as an amateur for more than 15 years. In this journey, I've used many digital camera bodies and lenses. Below is the list I currently own and I'm planning to update regularly.
Camera Bodies:
Canon 5D Mark IV ♥
Best camera I've ever used personally. Much better than my 5D Mark III in terms of IQ and DR.
AF is instant.
Canon 5D Mark III
This became a backup body in case something happens to my main body during a trip.
Ricoh GR II ♥
Daily, street photography body.
Incredible sharpness.
Pocket size.
GoPro 5 Black
Used mostly for timelapse.
DJI Mavic Air
Very small. Fits even in my smallest bags.
DSLR Lenses:
Canon EF 24-70mm f/2.8L II ♥
Best zoom in the market. Go get it if you have the budget.
Canon EF 16-35mm f/4L IS
Great UWA option. Sharpness and contrast is top class.
Canon EF 70-200mm f/4L IS ♥
Been using more than 8 years. Lightest "ultra sharp" telephoto option.
IS is a huge boost.
Canon EF 100-400mm f/4.5-5.6L IS II ♥
Tack sharp, great range; even for a full frame.
4 stop IS makes a huge difference.
Focusing distance is so close (even at 400mm) that, I regularly started thinking of selling my macro lens.
Canon EF 100mm f/2.8L IS
I'll be honest. I'm not a macro person. But the lens serves extremely well when I do shoot with it.
Canon EF 85mm f/1.8
Great for portraits. Cheap alternative to 1.2 version. Do not carry this at all. Stays in closet.
Sigma 35mm f/1.4 Art Series ♥
The hands-down sharpest lens I own. Just a bit too heavy for my use.
Rokinon 14mm f/2.8
Incredible sharpness.
Can't use Lee filter system with it
Not using as much as the Canon UWA
Lee Filter System

Lee Foundation
Filter holder & 67mm, 77mm, 82mm adapters.
Lee 105mm Landscape Polarizer ♥
Best polarizer I've ever own. A bit expensive but what you get is what you paid in this case.
It adds a little warmness to the image.
Lee Big Stopper
For really sunny days. Extreme blue cast but easily removed in post.
Lee Little Stopper ♥
Most used ND. Period.
Lee 0.9ND Filter (3 stop)
Mostly used in capturing the water movement during the day.
Lee 0.9GND (Soft & Medium Edge)
Using to balance the light between the sky and the object.
Bags
Lowepro Whistler 350AW ♥
Even more durable than I thought. Gives you a feeling that it would protect the gear inside in case it falls from 100m high.
The only problem is it's a little tight and hard to put lenses with hoods to all sections together.
ThinkTank Retrospective 40
I had the smaller 7 version before but it didn't carry my 13 inch Macbook Pro, that's why I switched to this larger one.
Can't say I'm not missing the smaller one. This is so bulky.
MindShift Backlight 26L ♥
Perfect sized bag for my needs. A little less durable than my Whistler bag but it is extremely comfy even for long hikes.

Tripods & Heads
Manfrotto MT055CXPRO3 Tripod (Carbonfiber)
Old but new as it's our day one. Lighter than the aluminium version.
Good to carry around. Sturdy for my gear.
Gitzo GT1545T Traveler Tripod ♥
This is so light and packs really small in size that my main tripod started to become out of radar while packing. It is as durable as my Manfrotto CXPRO3.
---
---