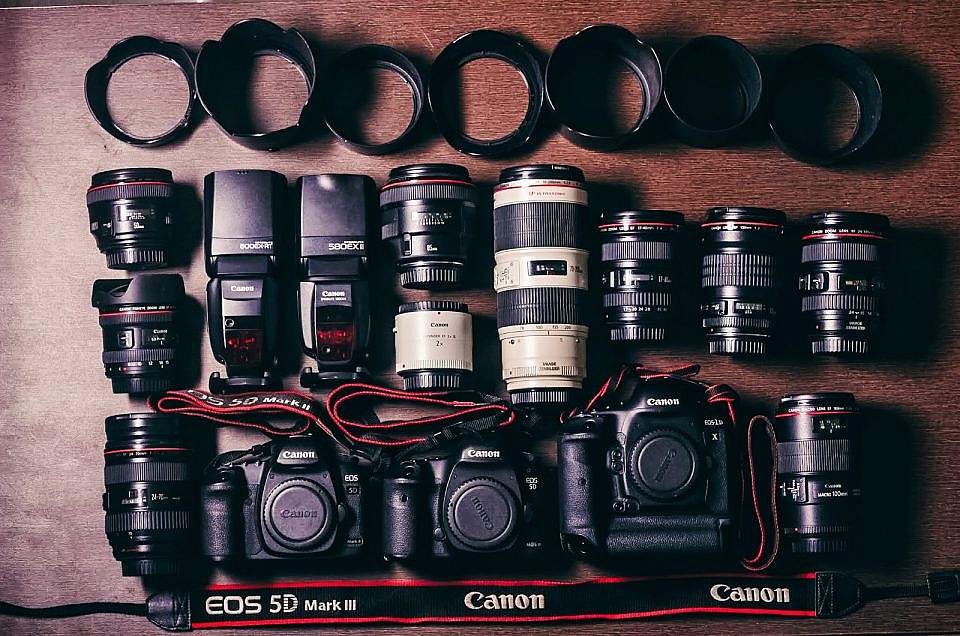 Let's keep this short and put it aside cause I really don't like talking about gear in detail. I've been interested in photography for more than 10 years. In this journey, I've used many digital camera bodies and lenses. Below is the list I currently own and planning to update it when there's a new gear or so.
Camera Bodies:
Canon 5D Mark IV ♥
Best camera I've ever used. Much better than my 5D Mark III in terms of IQ and DR.
AF is instant.
Canon 5D Mark III
This became a backup body in case something happens to my main body during a trip.
Ricoh GR II ♥
Daily, street photography body.
Incredible sharpness.
Pocket size.
GoPro 5 Black
Used mostly for timelapse.
DJI Mavic Air
It's a new one. Will update when used regulary.
DSLR Lenses:
Canon EF 24-70mm f/2.8L II ♥
Best zoom in the market. Go get it if you have the budget.
Canon EF 16-35mm f/4L IS
Great UWA option. Sharpness and contrast is top class.
Canon EF 70-200mm f/4L IS ♥
Been using more than 6 years. Lightest "ultra sharp" telephoto option.
IS is a huge boost.
<Canon EF 100-400mm f/4.5-5.6L IS ♥
Tack sharp, great range; even for a full frame.
4 stop IS makes a huge difference.
Focusing distance is so close (even at 400mm) that, I regularly started thinking of selling my macro lens.
Canon EF 100mm f/2.8L IS
I'll be honest. I'm not a macro person. But the lens serves well when I do.
Canon EF 85mm f/1.8
Great for portraits. Cheap alternative to 1.2 version. Do not carry this at all. Stays in closet.
Sigma 35mm f/1.4 Art Series ♥
The hands-down sharpest lens I own. Just a bit too heavy for a 35mm.
Rokinon 14mm f/2.8
Incredible sharpness.
Can't use Lee filter system with it
Not using as much as the Canon UWA
Lee Filter System

Lee Foundation
Filter holder & 67mm, 77mm, 82mm adapters.
Lee 105mm Landscape Polarizer ♥
Best polarizer I've ever own. A bit expensive but what you get is what you paid in this case.
It adds a little warmness to the image.
Lee Big Stopper
For really sunny days. Extreme blue cast but easily removed in post.
Lee Little Stopper ♥
Most used ND. Period.
Lee 0.9ND Filter (3 stop)
Mostly used in capturing the water movement during the day.
Lee 0.9GND (Soft & Medium Edge)
Using to balance the light between the sky and the object.
Bags
Lowepro Whistler 350AW ♥
Even more durable than I thought. Gives you a feeling that it would protect the gear inside in case it falls from 100m high.
The only problem is it's a little tight and hard to put lenses with hoods to all sections together.
ThinkTank Retrospective 40
I had the smaller 7 version before but it didn't carry my 13 inch Macbook Pro, that's why I switched to this larger one.
Can't say I'm not missing the smaller one. This is so bulky.
Tripods & Heads
Manfrotto MT055CXPRO3 Tripod (Carbonfiber)
Old but new as it's our day one. Lighter than the aluminium version.
Good to carry around. Sturdy for my gear.
Manfrotto Befree Tripod (Aluminium)
Light travel tripod. I wish I had the carbonfiber version but it was double the price.
Manfrotto 498RC2 Ball Head
It's been a great servant but it's time for a change. Will change with a RRS BH-055 ball head.
---
---